WestJet Vacations Groups – Instant Quote tool how-to guide
Travel agents can get instant quotes for new WestJet Vacations Groups bookings with many of our hotel partners through our new self-serve instant quote tool. This guide will walk you through how to use the instant quote tool.
SHARING A QUOTE WITH YOUR CLIENTS
Logging in
To access the instant quote tool, visit the travel agent resource site at westjettravelagents.com on or after April 9 and click on the "WestJet Vacations Groups" button at the top of the page.
You will be directed to the log in page. When you log in for the first time, enter your agency phone number and email address and create a password. To verify the password you entered, click on the eye symbol to display the text.
If you are unable to remember your password, enter your agency phone number, email address and click on "Forgot password." You will receive an email to reset your password.
If you click on "Remember me," you will not be required to log in each time you visit the tool.
Quotes – Eligibility
The WestJet Vacations Groups instant quote tool can provide quotes for the following requests:
Bookings of 40 guests or less
Bookings made a minimum of 4 months and a maximum of 320 days before departure
Bookings to Mexico, Jamaica, Dominican Republic and Costa Rica
Bookings with up to 2 gateways
Bookings with up to 3 room types per hotel
Bookings with a minimum of 5 rooms
Bookings with up to 2 different hotels
The following are not available in the instant quote tool and need to be booked by contacting the WestJet Vacations team at 1-844-213-5232 or groupvacations@westjet.com:
Bookings of more than 40 guests
Bookings departing in less than 4 months (minimum of 10 rooms required)
Groups requiring more than 2 gateways
Groups looking for specific flights or flights with long, multiple or overnight connections
Hotels or destinations not appearing in the tool
Quotes – Process
When requesting a quote, the tool will pre-populate the agency name, phone number and email based on your log in details. You will have the opportunity to add a different contact phone number should you book under a head office number.
Enter a group name and group type to help identify the quotes in your "My Quotes" section.
Enter the primary gateway and destination. For flight priority, you can select from: flights that are most affordable, flights departing in the morning (outbound flight) or flights departing in the afternoon/evening (outbound flight).
If your clients have a secondary gateway, complete that field. Then, enter your departure and return dates.
Select up to 2 hotels and up to 3 room categories. To process the quote, click "Submit."
Quote – Details
Once the quote has been submitted, the details will populate on-screen. You will also receive an email with the quote details in PDF format.
Unless the hotel offers specific pricing for a particular occupancy (e.g. single), the quote will include all occupancies that the room can accommodate. If your quote request was for two rooms, each room type and gateway will have its own pricing breakdown.
To request another quote, click "Request a quote." To view all quotes you have requested, click on "My Quotes."
My Quotes
The "My Quotes" page will show all the quotes you have requested. You can view all quotes, monitor the expiry date of the quote, re-quote or create a client-facing copy of the quote that you can share.
You can filter your quotes by clicking on the arrows beside the fields in the top row. You can also search for a specific quote by typing in the search box.
If you would like to book one of your quotes, click on "Book." A notification will be sent to the WestJet Vacations Groups team and one of our specialists will contact you within 24 hours to complete the booking.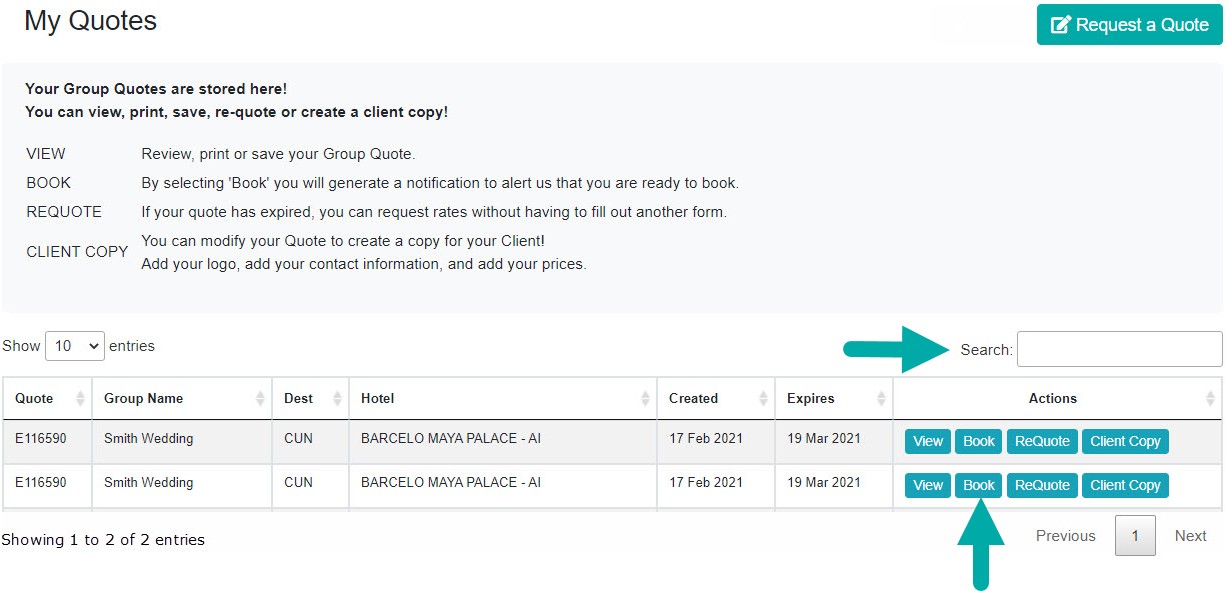 Sharing a quote with your clients
If you would like to share a copy of the quote with your clients, you can edit some of the details before sending. The details you can edit include:
Quote number
Agency details
Information in the text section
Pricing
Adding a hotel note
Adding a general note
If you make changes to the quote, you can return to the original quote and save the client-facing version locally, or send the client copy to yourself via email.
Payment via e-transfer
You may choose to pay for your client's booking via e-transfer. To do so, please follow the steps below.
Log in to your banking account online or through the mobile app and select the account.
Add groupvacations@westjet.com as the recipient email. If you have already added this address, select it.
Enter the payment amount and a security question. The security question should be "My group's booking number" and the answer should be your group's file number.
IMPORTANT: Once the payment is sent, please be sure to let the WestJet Vacations Groups team know by emailing groupvacations@westjet.com.
Contact information
To request a quote that is not available in the tool, for log in assistance or for other inquiries, please contact the WestJet Vacations Groups team at 1-844-213-5232 or groupvacations@westjet.com. The hours of operation for the WestJet Vacations Groups team are Monday to Friday, 7 a.m. to 4:30 p.m. MT.