Palladium Hotel Group
Last updated October 24, 2023
Palladium Hotel Group including Grand Palladium resorts their family friendly resorts and TRS Hotels their exclusive adults only properties.
Feature: Grand Palladium Jamaica
Grand Palladium Jamaica Resort & Spa just completed a major refurbishment of its 537 suites; 252 rooms have new interior décor in neutral tones and a more upscale feel; 324 rooms include 48 suites with private plunge pools.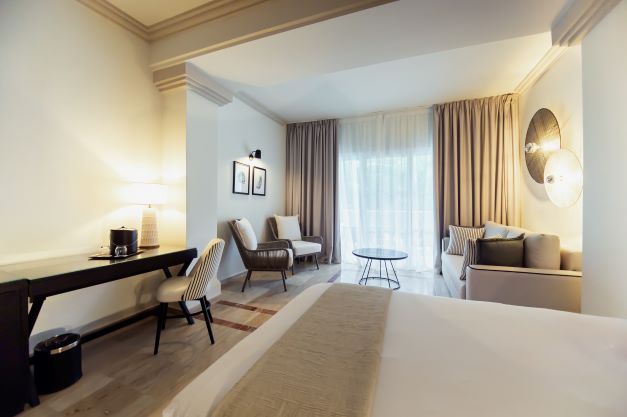 Spacious, newly remodeled room with a modern furnished terrace.
Make yourself at home in this sleek space with marble and wood details.
This room is available with either one king bed or two full beds – we'll do our best to accommodate your preference.
PALLADIUM CONNECT
Sign up and earn money on all bookings in minutes.
Created and designed especially for you, our most loyal partners.
Become part of the Palladium Connect family and enjoy exclusive members-only rewards like
bonuses for special bookings and earn exciting gifts and stays in our luxury hotels in
Mexico, Dominican Republic, Jamaica and other great destinations.
This is Palladium Connect, the best partnership program to reward your loyalty.
Register to begin receiving your rewards today!
PALLADIUM ACADEMY
Courses: e-learning units
Specialties: specific courses on brands, products and destinations
Learning resources: videos, cards, virtual reality, videos and brochures
REWARDS
Be rewarded for your efforts in recommending and selling Palladium Hotel Group.
PRACTICAL INFO
Get complete access to information about Palladium Hotel Group directly on from the website.
LEARN MORE
Earn more and become a Palladium Ambassador with their Pro-Learning Program.
BE INFORMED
Palladium and TRS Hotels and Resort partners:
Mexico
Dominican Republic
Jamaica
Resort Credits
Clients will enjoy $1,500 in resort credits with a minimum 4-night stay at select TRS Hotels and Grand Palladium Hotels & Resorts in Mexico and the Caribbean.
Kids free
Grand Palladium Costa Mujeres
Two children 0-17 years stay free in the Family Selection rooms at Grand Palladium Costa Mujeres Resort & Spa in Mexico.*
*Terms and conditions apply
Learn more about Family Selection – a hotel within a hotel
Honeymoon Packages

Free room upgrade (subject to availability), fruit basket with bottle of champagne, 15% discount on unlimited massages , resort credit coupon of $1,500 per room, please remark the file with "Honeymooners" to be identified on the booking.
---
Terms and conditions:
Advance booking required. Non-refundable and non- transferable. Offer limited and subject to availability. Offer subject to change and expire without notice.  New bookings only. Not valid on group bookings. Other restrictions may apply. Savings amount vary per property. This offer may not be combined with any other offer. Based on space availability and subject to closures. Credits are issued per room per stay. Resort credits cannot be redeemed for cash, products, or merchandise.  No cash reimbursement for unused credits.