Palladium Hotel Group
February 1, 2023
Partner of the Month
February is Palladium Hotel Group including Grand Palladium resorts their family friendly resorts and TRS Hotels their exclusive adults only properties.
We have amazing discounted rates, rich resort credit offers, kids free promotions and complimentary honeymoon packages just to name a few ways you can enrich your clients vacations when booking Palladium Hotel Group through WestJet Vacations.
Feature: Grand Palladium Jamaica
Grand Palladium Jamaica Resort & Spa just completed a major refurbishment of its 537 suites; 252 rooms have new interior décor in neutral tones and a more upscale feel; 324 rooms include 48 suites with private plunge pools.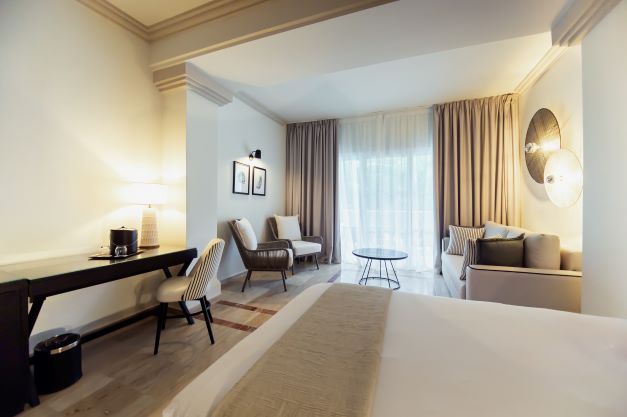 Spacious, newly remodeled room with a modern furnished terrace.
Make yourself at home in this sleek space with marble and wood details.
This room is available with either one king bed or two full beds – we'll do our best to accommodate your preference.
PALLADIUM CONNECT
Sign up and earn money on all bookings in minutes.
Created and designed especially for you, our most loyal partners.
Become part of the Palladium Connect family and enjoy exclusive members-only rewards like
bonuses for special bookings and earn exciting gifts and stays in our luxury hotels in
Mexico, Dominican Republic, Jamaica and other great destinations.

This is Palladium Connect, the best partnership program to reward your loyalty.
Register to begin receiving your rewards today!
Earn double rewards with WestJet Vacations bookings.
Book Grand Palladium Resorts and TRS Hotels, track your bookings on Palladium Connect and earn double the rewards with each booking. Use PROMO CODE: CANADA23 when tracking your bookings to earn double the rewards. Applicable for bookings made until February 28, 2023 for travel until December 23, 2023.
PALLADIUM ACADEMY
Courses: e-learning units
Specialties: specific courses on brands, products and destinations
Learning resources: videos, cards, virtual reality, videos and brochures
REWARDS
Be rewarded for your efforts in recommending and selling Palladium Hotel Group.
PRACTICAL INFO
Get complete access to information about Palladium Hotel Group directly on from the website.
LEARN MORE
Earn more and become a Palladium Ambassador with their Pro-Learning Program.
BE INFORMED
Attend to learn more. Travel Agent upskilling session(s). Date TBA
Palladium and TRS Hotels and Resort partners:
Mexico
Dominican Republic
Jamaica
This is our best offer of the year!
Book now and save your clients up to 55% off nightly room rates at the following properties + guests will receive $1500 in resort credits during their stay + kids free at select resorts and if your clients are celebrating their honeymoon – note the file and they will get the complimentary honeymoon package upon arrival!
Booking window: February 1 to 28, 2023
Travel window: February 2 to January 4, 2024
Discounted Rates

Book now and save your clients up to 55% off nightly room rates. These are the biggest discounts we have seen this year.
Resort Credits
Clients will enjoy $1,500 in resort credits with a minimum 4-night stay at select TRS Hotels and Grand Palladium Hotels & Resorts in Mexico and the Caribbean.
Kids free
Grand Palladium Costa Mujeres
Two children 0-17 years stay free in the Family Selection rooms at Grand Palladium Costa Mujeres Resort & Spa in Mexico.*
*Terms and conditions apply
Learn more about Family Selection – a hotel within a hotel
Grand Palladium Punta Cana
One child free when sharing with two adults for travel from April 10 to August 18, 2023.
Grand Palladium Bavaro
One child free when sharing with two adults for travel from April 10 to August 18, 2023.
Honeymoon Packages

Free room upgrade (subject to availability), fruit basket with bottle of champagne, 15% discount on unlimited massages , resort credit coupon of $1,500 per room, please remark the file with "Honeymooners" to be identified on the booking.
Marketing materials
You can add your contact details on the bottom right and market these offers to your clients.
You can download our B2B version to share with your team. Download now
---
Terms and conditions:
Discount varies per resort. Travel dates determine discount (see below for details). Advance booking required. Non-refundable and non- transferable. Offer limited and subject to availability. Offer subject to change and expire without notice. New bookings only. Not valid on group bookings. Other restrictions may apply. Savings amount vary per property. This offer may not be combined with any other offer. Based on space availability and subject to closures. Credits are issued per room per stay. Resort credits cannot be redeemed for cash, products, or merchandise. No cash reimbursement for unused credits. Double the Palladium Rewards when using promo code: CANADA23 with WestJet Vacations through Palladium Connect. Bookings must be submitted within 90 days of booking date (regardless of travel dates) to qualify for rewards