Karisma Hotels & Resorts
New to WestJet Vacations, Margaritaville Beach Resort, Ambergris Caye – Belize (BZE)
New to WestJet Vacations, Margaritaville Beach Resort, Ambergris Caye (BZE) is now available for bookings. This brand-new property opened this month and is ready to welcome guests.
This secluded and exclusive boutique property has the 'no worries' tropical vibe of other Margaritaville properties. This property is EP, guests can enjoy the BBQ area to gather and prepare meals or visit the onsite restaurant.
All transfer are included in the WestJet Vacations total package price to Margaritaville Beach Resort, Ambergris Caye
Guests arriving into Belize City (BZE) will be transferred via an inter-island flight to the regional airport of San Pedro, Ambergris Caye (SPR). Upon arriving in San Pedro clients will be escorted to the Margaritaville Welcome Center prior to boarding your boat transfer to the resort. All transfer details will be included in the travel documents for your clients packages.
Karisma Resorts by brand
Azul Resorts
Azul Beach Resort Negril, by Karisma
Discover an all-inclusive escape embraced by some of the most beautiful beachfront in Jamaica. Azul Beach Resort Negril combines Karisma's all-inclusive luxury with a Caribbean paradise brimming with beauty.
Azul Beach Resort Riviera Cancun
Located just 15 minutes away from the airport and within strolling distance of one of the most captivating beaches in the world, Azul Beach Resort Riviera Cancun offers swim-up suites and spectacular accommodations, luxurious amenities, full-sensory culinary experiences — including one of the 50 best restaurants in Latin America — and so much more. You'll even find specific areas that cater to families and adults. Not to mention toddler-inclusive amenities for their youngest guests.
El Dorado Spa Resorts
El Dorado Seaside Palms
Escape to the Riviera Maya — one of the most beautiful destinations on Earth — and your clients can experience it all from a property just as spectacular. They can unwind on the powdery white sand, soothe mind and body with luxurious amenities, or treat themselves to Gourmet Inclusive® drinks and dining.
El Dorado Royale
El Dorado Royale is Mexico's only premier adults-only, AAA Diamond Award-winning beachfront resort. As one of Condé Nast Traveler´s Top 100 Hotels in the world, El Dorado Royale by Karisma is where discerning vacationers come to experience a Gourmet Inclusive® getaway. Whether your clients plan on lounging the hours away on the sand, discovering the vibrant local culture, or immersing themselves in a world of luxurious resort experiences, you've found the right place for them.
El Dorado Maroma
Nestled within one of Cancún's most stunning beaches, El Dorado Maroma is a romantic, adults-only escape complete with the Gourmet Inclusive® experience. Lush tropical surroundings are complemented by exquisite services and facilities to create the perfect retreat. And don't just take their word for it — it was voted one of the top four resorts in the world by the readers of Condé Nast Traveler.
El Dorado Seaside Suites
At El Dorado Seaside Suites, the only thing it overlooks is the Caribbean. Their all-inclusive, all-suite, all-oceanfront resort is the Riviera Maya's premier destination for sun-seekers, discerning diners, and beach aficionados alike. Your clients can drift away on a beach lounger on the sand, savor authentic local flavors and international cuisines, and soothe mind and body with our wellness offerings.
El Dorado Casitas Royale
Welcome to a romantic, adults-only, all-inclusive escape in the heart of the Riviera Maya. Featuring swim-up suites, an indulgent spa, exceptional guest service, and Karisma's signature Gourmet Inclusive® dine and drink options across 13 restaurants and 17 bars, El Dorado Casitas Royale offers guests the escape of a lifetime.
Palafitos – Overwater Bungalows
Mexico's only over the water bungalows!
Blending comfort and luxury, these overwater bungalows include glass bottom floors, direct ladder access to the ocean, private infinity pool, spacious terrace with wooden lounge chairs and Karisma's signature Aguas del Amor outdoor showers and other top-of-the line amenities.
It's one thing to stay at the beach. It's another thing entirely to go beyond it. Palafitos Overwater Bungalows surround clients with the sapphire serenity of the Caribbean. Guests will experience the ultimate in Riviera Maya oceanfront luxury.
Between the lavish accommodations, Gourmet Inclusive® dining, and unique experiences, they will have everything they need to drift off into vacation nirvana.
Generations
An all suite, all oceanfront, all gourmet family resort.
Welcome to the quintessential family resort – the All Suite, All Oceanfront, All Gourmet Generations Riviera Maya. Here, you will discover everything from Gourmet Inclusive® à la carte cuisine to infinity pool balcony suites and attentive concierge service.
Margaritaville Resorts
Margaritaville Island Reserve Riviera Maya
Get ready for the ultimate adults-only getaway. Introducing Margaritaville Island Reserve Riviera Maya, the first adults-only property in the award-winning collection, opening June 2023.
The new resort will feature a slew of debuts for the brand. Like the first-ever beachfront LandShark Brewery. New room categories that up the wow factor. Nine world-class restaurants, including returning favorites like JWB Steakhouse and Frank & Lola's, as well as exciting newcomers like Far Side of the World and Salted Rim. Exclusive wedding venues designed to elevate your big day in every way. And plenty of space to soak up the sun poolside — margarita in hand.
Margaritaville Island Reserve Riviera Cancun
At Mexico's Margaritaville Island Reserve Riviera Cancun we issue a "License to Chill" giving your clients access to five-star service, and all-inclusive luxury without all the fuss. Through our curated Island Reserve Inclusive® Experience, clients will enjoy show-stopping live entertainment, immersive culinary experiences, endless opportunities to connect with like-minded travelers.
BELIZE – NEW – Margaritaville® Beach Resort, Ambergris Caye
Welcome to Margaritaville® Beach Resort, Ambergris Caye — a secluded, sustainable, family-friendly hideaway. Located just north of beautiful San Pedro, Belize and steps from a stunning beach that's home to the second largest coral reef in the world, the first Beach Resort within the Margaritaville collection beckons with unforgettable activities and experiences.
One of the world's best-kept secrets, Ambergris Caye is surrounded by shallow, crystal clear Caribbean waters and a 190-mile-long barrier reef teeming with marine life. After reaching the resort by private boat shuttle, recharge in the gorgeous, Victorian-inspired open-air lobby — margarita in hand. Indulge in soothing services at the best spa on the island. Enjoy dips in two lagoon-like pools — one oceanfront and one exclusively for families — and fill every moment with live music and entertainment.
Included in the WestJet Vacations package and commissionable:
Inter-island flight transfers between Belize City (BZE) and San Pedro, Ambergris Caye (SPR) regional airport. Clients will be escorted from San Pedro to the Margaritaville Welcome Center to board a boat transfer to the resort. All transfer details will be included in the travel documents for you to share with clients.
HOLBOX (CUN) – COMING SOON TO WESTJET VACATIONS
Margaritaville St. Somewhere by Karisma Punta Coco, Holbox Island
One of the newest addition to the Margaritaville collection marries warm hospitality and easygoing vibes with personalized luxury, infusing every moment of your seaside escape with local authenticity, culture, and experiences as well as à la carte world-class dining, stunning suites, five-star service, and over 3,000 feet of pristine beachfront.
Holbox is an island lost in time with untold beauty, still engrossed in rich culture and history. Only 41.84 Kilometers (26 miles) long the island host some of the best experiences in the natural world including whale sharks, bioluminescent bays and much more. Let us help make your trip in discovering Holbox Island even better with some of the best experiences the island has to offers. Clients will fly into Cancun and be transferred to Holbox.
Nickelodeon Resorts
Nickelodeon™ Hotels & Resorts Riviera Maya
Level up your family vacation! Join SpongeBob SquarePants in Riviera Maya, Mexico — as well as Leonardo, Raphael, Donatello, Michelangelo, and many more Nickelodeon™ friends — we are bringing signature entertainment, a splash of fun at waterpark Aqua Nick ® , themed experiences, and more. Nickelodeon™ Hotels & Resorts Riviera Maya is exclusively designed for families who enjoy a premium vacation experience with a playful Nickelodeon™ twist. Welcome to the ultimate family beach escape.
Nickelodeon™ Hotels & Resorts Punta Cana
The family that stays together plays together. Guests can choose to explore our Aqua Nick® water park in search of a splashi'n good time, roam around our Gourmet Village for delicious and diverse bites, meet up with some of their favorite Nick characters at Character Breakfasts, there's plenty of fun in store for the entire family when you book them to stay at Nickelodeon Hotels & Resorts Punta Cana.
Luxurious Nick-themed villas and swim-up suites
Aqua Nick® access to our guest favorite water park
Nickelodeon Fun with World-Class Gourmet Inclusive® Experiences
Play for Days: Club Nick – a hangout just for kids, Plaza Orange & Character Central for dance parties, character meet & Greets, immersive theater experience, Slime! & more
Five-star luxury, playfulness and the warm hospitality that makes Dominican Republic such a beloved destination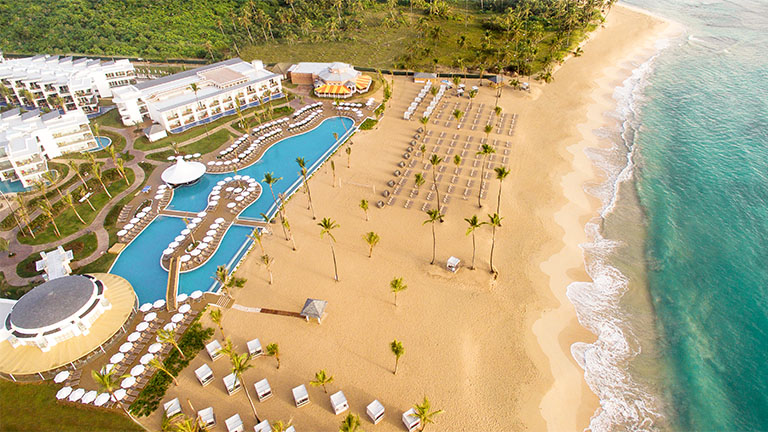 Karisma Resorts by destination

JAMAICA-NEGRIL
BELIZE AMBERGRIS CAYE
Travel Agent Tools
Visit Karisma Hotels & Resorts Agent site to take full advantage of all the ways they support you and your sales into their hotels and resorts.
Double Points Promotion – Travel Agent Appreciation Month Incentive
Promotion applies to NEW bookings only and applicable to all room categories. • Bookings made via your preferred Tour Operator or Karisma direct qualify. • To earn double points, booking must be registered on the travel agent portal prior to guest travel and the promotion must be added to the booking at time of registration. No exceptions will be made. • Points will be added to the travel agent account after the booking completes travel.
Book: May 1, 2023 – July 31, 2023
Travel: May 15, 2023 – December 15, 2023
Minimum: 1-night stay
Resort Fact Sheets & Maps
Accurate information is a key part of motivation. Learn more
Agent Programs
Learning Centre
They know that the most professional, confident, credible and successful travel agents tend to be those who have taken the time and energy to immerse themselves in the product. From live webinars, tutorials, resort fact sheets, and a myriad of sales & marketing tools, they will supply everything you need to sell their properties. Add in a FAM trip or Site Inspection and you will be at the top of your game. Learn more
PROMOTE YOUR KARISMA
Karisma will help grow your business with many resources. Learn more
WestJet Vacations Marketing Tool Kit – coming soon